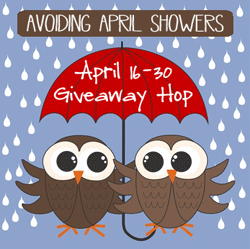 Welcome to the Avoiding April Showers Giveaway Event. This event is hosted by Put A Little Umbrella In Your Drink, My Mommy's World, Taking Time For Mommy and And The Little Ones Too. This event features giveaways with a value of $25 or more at each of the participating blogs! Be sure to visit each blog from the linky below and enter for your chance to win! This event will close on April 30th at 11:59 pm EST. Good Luck!
I am excited to bring you a giveaway that all parents are sure to enjoy! I hope to bring a simple way to acquire peace in your new-baby home as well as a solution to make story time fun with this fantastic giveaway!
Sounds for Silence is a program designed to soothe a crying baby so that parents can relax knowing their child is settled without feeling distraught. From the website:
"The tracks are a unique combination of sounds that distract, engage and then soothe a crying baby. What's the difference between these sounds and others, such as lullabies? Put simply, they work! The whole program includes the proven Sounds for Silence Soundtracks, plus a no-nonsense Parenting Manual that cuts through the outdated conventions and beliefs of child rearing. Be reassured and uplifted, and realize that you are not alone. All young babies have fussy, crying periods. Read this book before you start to panic!"
The book includes chapters on:
Intuition
Infant Irritability
Strategies for Managing Irritability
Baby Settling – Other Considerations
Feed, Play, Sleep
Helpful General Information
Scary Episodes – Let Me Reassure You
The Preterm Infant
Alarm Bells
How to Use the Sounds for Silence Sounds
Harry's Maxiums – the Minimum You Should Know
Family Stories
Troubleshooting
Behavior Diary
This program has had a lot of great reviews, both in the media and from parents who used the products. It's a $50 value in itself, and I'm offering it to one lucky winner!
But that's not all.
Shanna is a real life friend of mine from high school. Shanna is a stay-at-home-mom, blogs at Corduroy and Flowers, and is a Barefoot Books Ambassador. Barefoot Books is a company for children, started by moms. Artists and musicians and writers create colorful and creative books and songs and activities for children to fuel their love of learning, spark imagination, and also bring focus to different cultures around the world and invite a sense of eco consciousness! Shanna loves these books and as a mother of 2 creative and imaginative little girls (5 and 2) she appreciates the value of imagination and these products inspire and ignite that in her children.
"Whole World" is  a mini hardcover book that comes with a sing-a-long CD. It's absolutely fantastic for kids of all ages! It allows you to 'Connect with the whole wide, wonderful world with this green book that rejoices in the marvels of our environment. The catchy rhyme in this new take on a traditional spiritual begs to be sung aloud. Includes lots of facts about the Earth's ecosystems and tips on how to be eco-conscious.'"
Gaia and I read it and she really liked it. I think I might have to buy her a copy once the move is over. (I have this clearing out thing I'm doing, but it's freaking me out because I've developed this desire for more things.) The illustrations are really very pretty.
Shanna has graciously sponsored one copy of this book to our winner!
Please understand that Put A Little Umbrella In Your Drink, My Mommy's World, Taking Time For Mommy and And The Little Ones along with the other "Avoiding April Showers Event" bloggers are not responsible for sponsors that do not fulfill their prizes. However, we are responsible for contacting our sponsors regarding the winner's prize at the close of the giveaway. We expect that our sponsors will fulfill their prize agreement and ship them to the winners in a timely manner.