I've recently won some sponsor space on some other websites and I wanted to give them some love.
I also was tagged in some things. Chrissy tagged me for the "Versatile Blogger Award" and Rina tagged me for "Tell Me About Yourself Award." The rules are basically the same: post 7 facts about yourself and tag some people. (Versatile rules say tag 15 and Tell Me says 7 people… I, however, do what I want.)
>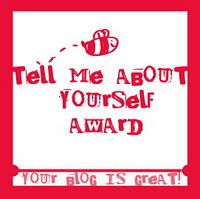 Here are 7 facts:
I am pretty much blind. I am -575 in both eyes. But hey, at least it's even, right?
I play video games a lot. Well, I play one video game these days… League of Legends. I used to be a hardcore N64 player though. My sister even got me the Xena game for this past birthday because I still enjoy both the N64 and Xena. Also, I'm going to the midnight release for Diablo III.
I recently cut my hair 8 inches. I haven't posted about it yet because I haven't felt like going outside for a self-portrait.
My version of packing is throwing each room into a box and calling it a day. I am not very good at it.
I procrastinate and am famous for writing 10-page papers the day before they are due.
I work good under pressure though and still get satisfactory grades, often A's.
I still don't know what I want to be when I grow up.
Here at 7 people:
If you've been tagged for one, then do the other. Like I said, the rules are similar. 🙂
Happy Tuesday!