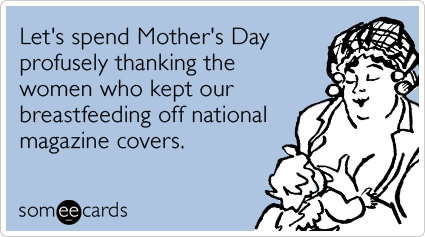 I'm sure most of you have seen the Time Magazine cover circulating the internets by now. "Are You Mom Enough?" is displayed in large bold, red letters. I am mom enough to not publicize our breastfeeding relationship in such a way that gives off the steam of complete and utter shock value.
Extended breastfeeding is awesome. Sometimes I feel like a failure because I only breastfed for 19 months. It was a personal decision though. I was touched out and it was effecting my feelings towards my child. I debated the decision to wean for a long time before committing. I even offered the breast three months after we weaned because I missed it and felt guilty. But it was the best decision for me at that time and in retrospect I do not regret weaning when we did.
I do not think that there is a time limit on breastfeeding. Breastfeeding a three year old is amazing and any mother who has been able to keep that aspect of their relationship with their child should be applauded and respected. My problem with this cover is that it really is just for shock value. Breastfeeding should not be about shocking the masses. It is something that needs to be normalized and accepted. There is nothing normal about the cover and in my opinion it is not acceptable.
I read the Q&A with Jamie (she's the mom on the cover) and I like her. So this is not a personal attack. And I liked most of the other photos from "Are You Mom Enough?" (though more moms smiling would be nice). I don't know why this one wasn't on the cover instead:

Doesn't that look more natural and comfortable? I think so. But it's not as shocking as a child standing on a chair to reach mama's milk. And that, my friends, is the problem. Shame on you, Time Magazine.
The article is actually about Dr. Sears and attachment parenting. I haven't read it, but I am a fan of Dr. Sears and attachment parenting. You should check out the article even if you feel as angry about the cover as I do.