I'm linking up for the book chat at Sweet Green Tangerine today. 🙂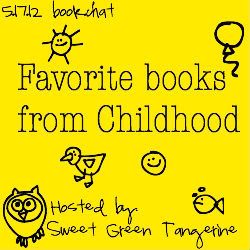 I admit I am not a big reader. However, I do have a Amazon.com wishlist that I update regularly. I do enjoy to red, but I'm quite picky when it comes to books and if I'm not sucked in from the beginning I most likely won't finish it. I have more fun updating Gaia's wishlist because children's books are so much fun! I recently added a ton to her list, so I'm going to tell you about some of our favorites…
Gaia loves Eric Carle. We read The Very Hungry Caterpillar all the time. (The link is to a pop-up… apparently amazon doesn't have the original version.) She always has to turn the pages with the holes in them. Ha!

[source]
We also have The Very Quiet Cricket and The Very Busy Spider. We desperately need Brown Bear Brown Bear What Do You See? I've added The Artist Who Painted the Horse Blue because it's new and I'm interested as to what it's about.
I personally love our If You Give a Mouse a Cookie treasury. I love it so much it's on my bookshelf and not Gaia's because I don't want it to get banged up. These books were among my favorites growing up. I was surfing online last week and I didn't even know about If You Give a Dog a Donut and If You Give a Cat A Cupcake! So I added those to her wishlist as well. We need to read them ASAP. Laura Numeroff is just too good…
My Omi passed down her love for Shel Silverstein books to me. I do not own a copy of The Giving Tree, but it's my favorite book from childhood.

"And the boy loved the tree…" [source]
I'm a sucker for love stories though. And nature. A love story between man and nature? Of course it belongs on my bookshelf! Shame on me for not already owning a copy… or any of his poetry collections for that matter.
I often sit here wondering why certain elements are missing from my adult life. Why did it not occur to me to hold onto such fabulous books? Silly, young me. I want to teach my daughter to love her books and keep them close to her heart.
Disclaimer: This post contains affiliate links.