Hutch and I went thrifting the other day. We got our entertainment system, a shelf for my knick-knacks, and very sexy work shoes for each of us. But what I'm most excited about is this little giraffe canvas bag I scored. I disguised its awesomeness because my goal is to make a change purse or make-up/pencil bag of some sort. The colors are very chill though and it's a project I'm SUPER excited about! Yay discarded canvas bags!
I've been wanting to show you my little craft corner now that we're all set up. My sewing machine is directly behind the most excited version of me. We're about to get crack-a-lackin'. Oh yeah.
The billboard isn't as big as I'd hoped, but it will become an inspiration board in the next few weeks when I start finding ideas and making them come to life. Directly under the cork board are my two bins' one is full of yarn and the other is full of fabrics.
This was my inspiration for the Self Portrait Contest over at Family Ever After. It's my first time actually trying to produce the tripod and editing the photo to include several versions of me. It got to the point where I gave up on perfection in the editing stages, but there I am!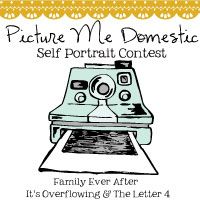 Click over and check out some amazing self portraits!