I like to post a little about myself every now and then to let any newcomers know a little about who I am and also to reintroduce more to my "oldies." I came across this excellent blog hop and thought it was the perfect opportunity!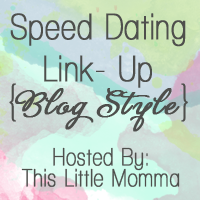 So hello! I'm Shary. I'm 25 and mother to a beautiful daughter named Gaia. This is my blog and it contains spinets of my family's adventures in life.
1. Gaia was born on December 9, 2007 after three days of natural labor. The first day wasn't bad, the second day was me locked in a dark room trying desperately to sleep, and the third day was definitely business. I didn't cry until two hours before she was welcomed into my arms, and I only pushed for 36 minutes. I still can't decide if I lucked out or not.
2. I married my husband when she was 5 months old.
3. It didn't work out. If you really want to I discussed that here.
4. I do have a boyfriend, Hutch. He's pretty awesome and you can read about that here.
5. My ex and I share custody, so I only have Gaia for 4 or 5 day stretches. It's kind of nice having some time to myself to craft or relax or catch up on "office" things, but I miss her after a day or two and it kind of sucks to be honest.
6. I have two adorable kittens. The orange one is Herbert West ("Herby" for short) and the multicolored kitty is Tonks.
7. I am a waitress at Denny's and I hate it when people come in with the whole family, run me to death, and then only tip maybe 10%. Please don't go out to eat if you can't afford to tip. And please be nice to your server.
8. I might go to University of South Florida in the fall to continue my career in public health. I got my AA last spring.
9. I will never be rich and I am perfectly okay with that.
10. I really wish I could afford a copy of Diablo III. I've been playing since the original Diablo and I feel like I deserve it more than every one else and I'm sad.
So there you go! I hope you enjoyed it!