So in case you didn't read my previous introduction post to this event, today is day 1 of an eight day campaign I'm participating in with 4 other awesome bloggers to help those less fortunate this holiday season. Cans for Comments is a blog-driven food drive where each blogger donates canned goods (or other items) in exchange for blog love. By commenting on this post, or any other post in my ENTIRE BLOG, on December 7th through the 15th you are helping out my local community.
So who's donating what exactly?
Well I personally am donating 1 canned good for every 5 comments. I have other stuff to donate anyhow (clothing, toys, etc.) So I just am going to include all that at the end of the campaign anyhow. Of course I would still love for you to follow me and become a regular reader!
We invite you to join us! Whether it's for a day or for the campaigns complete run, we invite you to set goals for yourself and your readers to help a stranger this season. Feel free to hop right on the bandwagon, grab a button, and link-up!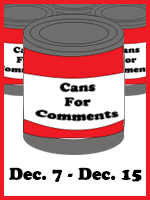 I look forward to meeting all my new followers and reading all your comments!