I have been bragging for weeks about how my Christmas shopping was done and that anything else I bought was completely unnecessary and frivolous. I am totally a giver by nature, and it makes me all warm and fuzzy inside to shop and create things for my loved ones. I donate all my car change to the bell-ringers outside of Publix and in years past I've done the Angel Tree at Wal-Mart. I do swaps and exchanges and I sign up to "angel" them in case someone doesn't hold up their end of the trade.
We're not a well-off family by any means. I think I manage it well, but financially speaking we're lucky to make ends meet at all. I'm technically unemployed and if it weren't for me taking out student loans while working on my Bachelor's online, well, the bills would never get paid. We live paycheck to paycheck (Hutch's paycheck that is) and Christmas was basically all on loan as he's graciously volunteered to handle the month of February on his own since his car will be paid off by then. I carried him while his car broke down all summer long (when I did have a job), and he's carrying me through the holidays. We're a cool team like that.
Despite those constant financial stressors, we both realize that things could always be worse. I try to make it a habit of helping those less fortunate. I love canned food drives and I always buy canned goods on sale throughout the year so I have something to give. I am happy to announce that I'll be teaming up with Amanda @ Life, Experience Needed and doing Cans for Comments.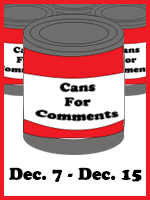 Cans For Comments is a fundraiser to help support our local food banks during the high-need holiday and winter season. My job as a co-host is to donate specific items based on how many comments I receive during the event's run time. I have decided that for my participation I will donate one canned good to my local food bank for every 5 comments I receive for the drive's duration. That's eight days of commenting power! You spread the love and I pass it onto a family in need.
Here are the other fabulous hosts for Cans for Comments:
Amanda @ Life, Experience Needed
Dawn @ Dawn's Disaster
Liz @ Funny Postpartum Lady
Kera @ Nugget on a Budget
This benefits YOUR local community, so please consider joining us and participating in Cans for Comments. You can do it for a day or a handful of days, whatever works for you! There's a link up after the event so you can share how you helped out your community this holiday season!
Giving is so good for the soul!