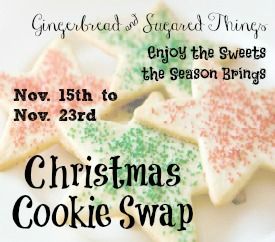 Back in November I signed up for this Christmas Cookies swap with Julie at
White Lights on Wednesday
and all her fun foodie blog friends. In the days awaiting my recipe in the mail I just kept thinking "please not sugar cookies, please not sugar cookies, PLEASE NOT SUGAR cookies." See folks, I like to bake, and I can make an un-cracked cheesecake last minute look easy. But I can not do sugar cookies. I have no idea why. I have tried them several times in several different ovens with no success. It's my all-time mom failure… my child will never decorate cookies for Christmas. I suck that way.
So I go t the mailbox and I open my letter. Surprise! Sugar cookies. JOY.
Because I suck at them, I decided to cheat and use a Pillsbury sugar cookie roll as the base for the following Peppermint Pinwheels. I also omitted the peppermint extract in my peppermint half because I hate wasting money on one-time ingredients. So for the peppermint half I added a few drops of red food coloring thinking the batter might need some more moisture anyway.
Before I get onto the recipe, I'm going to explain that my chocolate half was too dry and my peppermint half was too sticky. Yes, these failures can be attributed to the fact that I used a store-bought sugar cookie roll thing instead of just making the cookies totally from scratch. I challenge someone else to make these as well and see if you come up with different results.
Chocolate Peppermint Pinwheels
Ingredients:
1 batch sugar cookie mix
3 oz. unsweetened chocolate, melted
1 tsp. vanilla extract
1 egg yolk
1 tsp. peppermint extrct
1/2 cup crushed peppermint candy
Directions:
Divide dough in half.
Add chocolate and vanilla to one half and incorporate with hands.
Add egg yolk, peppermint extract, and crushed candy to the other half and incorporate with hands.
Cover with plastic wrap and chill for approximatley 5 minutes.
Roll out both doughs separately to about 1/4 inch. Place peppermint dough on top of chocolate dough and press together around edges.
Using wax paper roll dough into a log. Wrap in wax papaer and chill for 2 hours.
Preheat oven to 375 F.
Cut dough into 12 inch slices. Place cookies 1 inch apart on greased baking sheet and bake 12 to 13 minutes.
Hopefully you don't wind up with this mess:
I swear this happens to me every time. EVERY SINGLE TIME. They go in just fine, but they come out all melty and misshapen and unrecognizable. I don't blame my swap partner at all. The cookies seem totally legit and the manageable parts were quite delicious.Maybe I'll take the recipe to my mom's and perhaps she can whip up a better batch. I'm sorry I failed you!!!